To Update to the next build, open the Xbox Insider Hub to Microsoft Flight Simulator and click "Open in Microsoft Store. From there, you can update to the next build.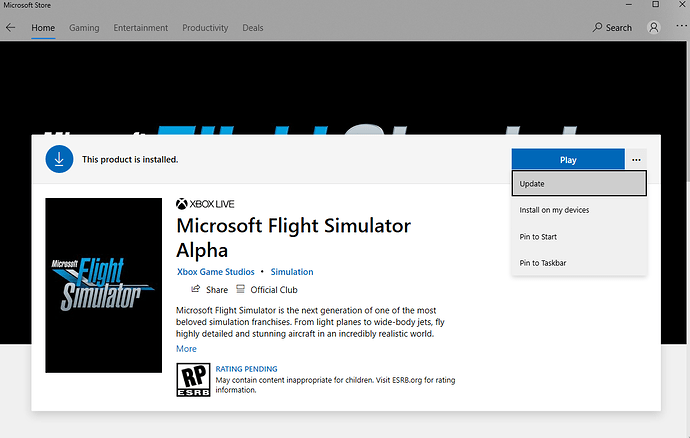 Note: If you do not see an update, try clicking the three dots on the top right hand screen and updating all pending.
Based on community feedback, we recommend that if you are about to update for the first time, please use the following instructions. If you are experiencing issues and have already installed the new update without uninstalling, please scroll down to the -Troubleshooting- section below. Thank you!
How to Uninstall MSFS
Once uninstalled, check to make sure all files are deleted. If you have game files in a different directory than where the app is installed by default (C: drive) uninstalling the game will not delete those files. Search for anything under 'Microsoft.KHAlpha' and ensure all files are deleted.
How to Install MSFS
Make sure the Microsoft Store is not opened.

Open up the Xbox Insider Hub.

Go to 'Insider Content' on the top left.

Click 'Show in Store' and the game will open up in the Microsoft Store.

Click 'Play' to open the sim.

When the sim opens, read and accept the NDA.

Once your account is verified, it will ask for you to Download the Core Content and All Base Aircraft. You will be able to select which repository you would like to download it to. Once you have chosen, click 'Download Recommended'.
Troubleshooting
If you experience broken aircraft, UI, and more, you may not have uninstalled all the old sim folders correctly. Please check again and remove those folders and restart the game (you should not have to uninstall again if done correctly) The default location is %LOCALAPPDATA%\Packages\Microsoft.KHAlpha_8wekyb3d8bbwe – look at your timestamps and move any older folders to the Recycle Bin.

If the installation does not show progress after 30 minutes, a restart of the installation may be required. If you 'end task' on the 'Microsoft Flight Simulator Alpha' process and try again, the installation will verify what is installed and apply changes as needed. You can also press ALT+F4 to close it out as well. Rest assured it will pick up from where you left off.